---
Scaling Climate Smart Shrimp in Southeast Asia using GIS and Computer Vision
Multi-institution team of Innovation Grants Program awardees will use GIS and AI to identify and classify aquaculture sites for production intensification and mangrove restoration in Indonesia and the Philippines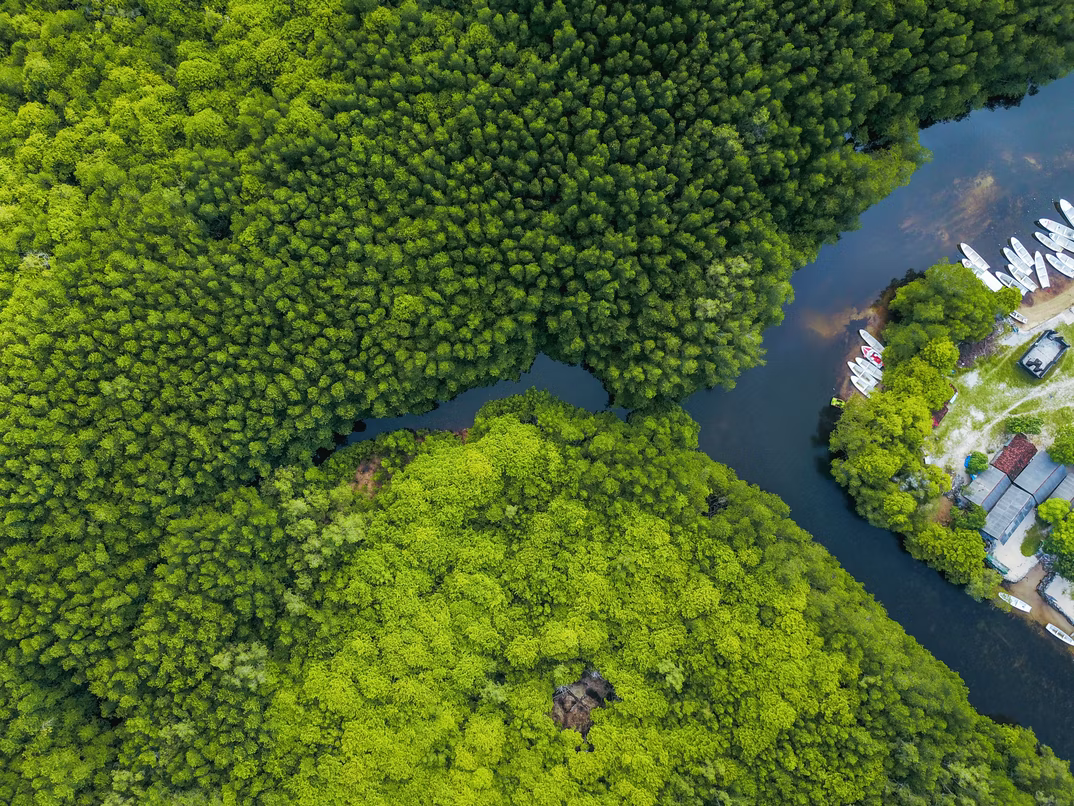 Mangrove forest in Indonesia by
Joel Vodell
via Unsplash
Mangroves are critical for coastal adaptation to climate change, providing protection from rising sea levels and storm surges while also sequestering carbon. However, like many other forests around the globe, mangroves are threatened by deforestation. One of the main drivers of mangrove deforestation is shrimp farming, especially in Southeast Asia, where it has driven 30% of forest loss and land use change in the region.
To support shrimp production while restoring mangroves in critical areas, Conservation International (CI) has initiated the "Climate Smart Shrimp" (CSS) program in Indonesia and the Philippines. In Indonesia, CI is working with its in-country partner Konservasi Indonesia (KI) to pilot the CSS program this year. The program will apply a novel "green-gray" engineering approach that can restore mangroves while simultaneously helping farmers intensify their production. CI estimates that this approach could restore up to 1.7 million hectares of mangrove forests worldwide, while producing just as much or even more shrimp.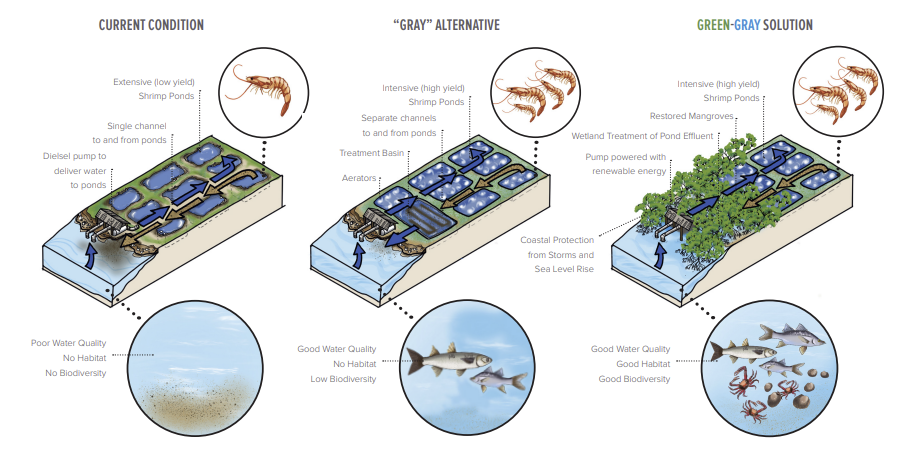 Codifying Domain Expertise with Multi-Criteria Decision Analysis
The key starting point for the CSS program is identifying the most suitable shrimp and other aquaculture farms at the largest scale possible. However, scoping these farms on the ground for one country alone can take months or even years, depending on the resources available.
Using a Multi-Criteria Decision Analysis (MCDA) approach, the consortium developed a set of filtering criteria supported by open geospatial data and satellite imagery to rapidly identify the most suitable aquaculture sites for further on-site validation. These criteria include characteristics like proximity to roads and populated areas, proximity to historical and present mangroves, pond size, and slope and elevation. Because the criteria are easily interpretable, they encourage feedback loops and quick iteration to continuously improve the filtered results.
By the end of the CSS program, the goal is to find the top 40,000 most suitable hectares in Southeast Asia. The results will be used by CI and their partners (including KI) to engage local communities and policymakers, as well as to raise funds from private investors to further strengthen and scale out the CSS program. Ultimately, the program supports the Global Mangrove Alliance's 2030 goal of increasing mangrove cover globally by 20% while addressing challenges in food and job security and protecting coastal communities in disaster-prone areas from the impacts of climate change.
The CSS program is set to take place this 2022 and will produce open-source code, datasets, interactive maps, and research products. Stay tuned for more updates or reach out to Conservation International (community@conservation.org), Koservasi Indonesia (asupriatna@konservasi-id.org), or Thinking Machines (data-for-good@thinkingmachin.es) for more information.
About the Participants
Arizona State University (ASU) is a public research university in Phoenix, Arizona founded in 1885. ASU houses the Julie Ann Wrigley Global Institute of Sustainability and is home to the United States' first School of Sustainability. ASU's sustainability work centers on education, research, business practices, global partnerships, and interdisciplinary solution initiatives.
Conservation International is a global non-profit organization established in 1987 that works to protect nature through fieldwork, working with Indigenous communities, governments, and corporations, and innovations in science, policy, and finance. CI's priorities include climate stabilization through nature-based solutions, protecting the ocean, and expanding planet-positive economies. CI has protected over 6 million square kilometers of ecosystems around the world and currently has offices in over 24 countries.
Konservasi Indonesia is a national foundation that aims to support the sustainable development and protection of critical ecosystems in Indonesia. As the main partner of Conservation International in Indonesia, KI works in partnership with government and other stakeholders to design and deliver innovative nature-based solutions for climate change, using a sustainable landscapes-seascapes approach to create lasting impacts for people and nature.
Thinking Machines Data Science (TM) is a technology consultancy that builds cloud artificial intelligence (AI) and data platforms to solve high-impact problems for large organizations across Southeast Asia. TM's Sustainability Team is constantly looking for new opportunities where data science can support and strengthen solutions for climate action and social impact. Having worked with a diversity of partners ranging from nonprofits and government agencies to top corporations, the company is also a Google Cloud Platform Partner, Waze Research Partner, and portfolio company of the UNICEF Innovation Fund. TM was founded in 2015 and now has operations in Manila, Singapore, and Bangkok.
Team Members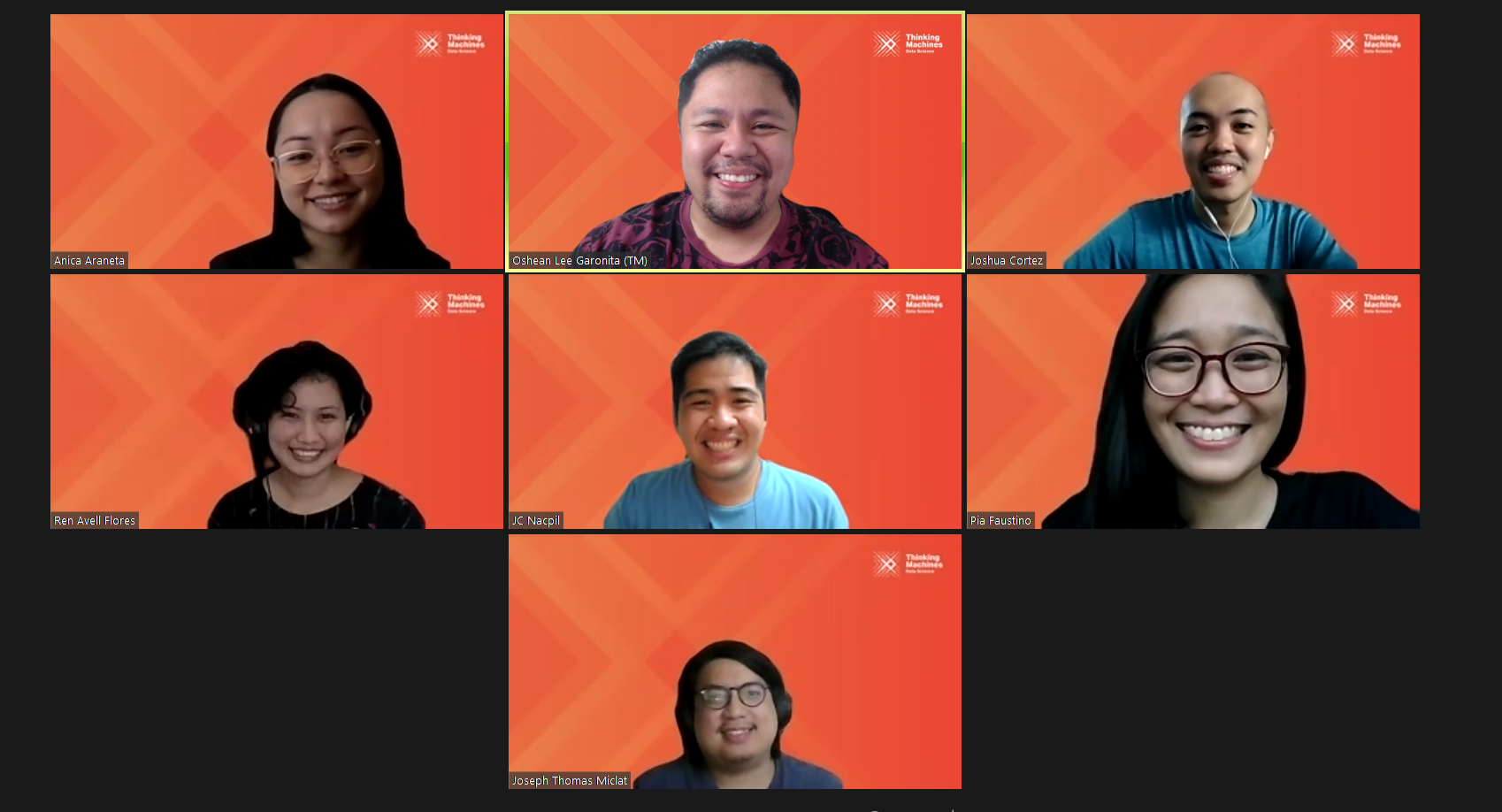 If you're curious to see how this project turned out, the CSS team wrote an updated blog post with project outcomes.
This post represents the views of its authors, and does not necessarily represent the views of Climate Change AI.